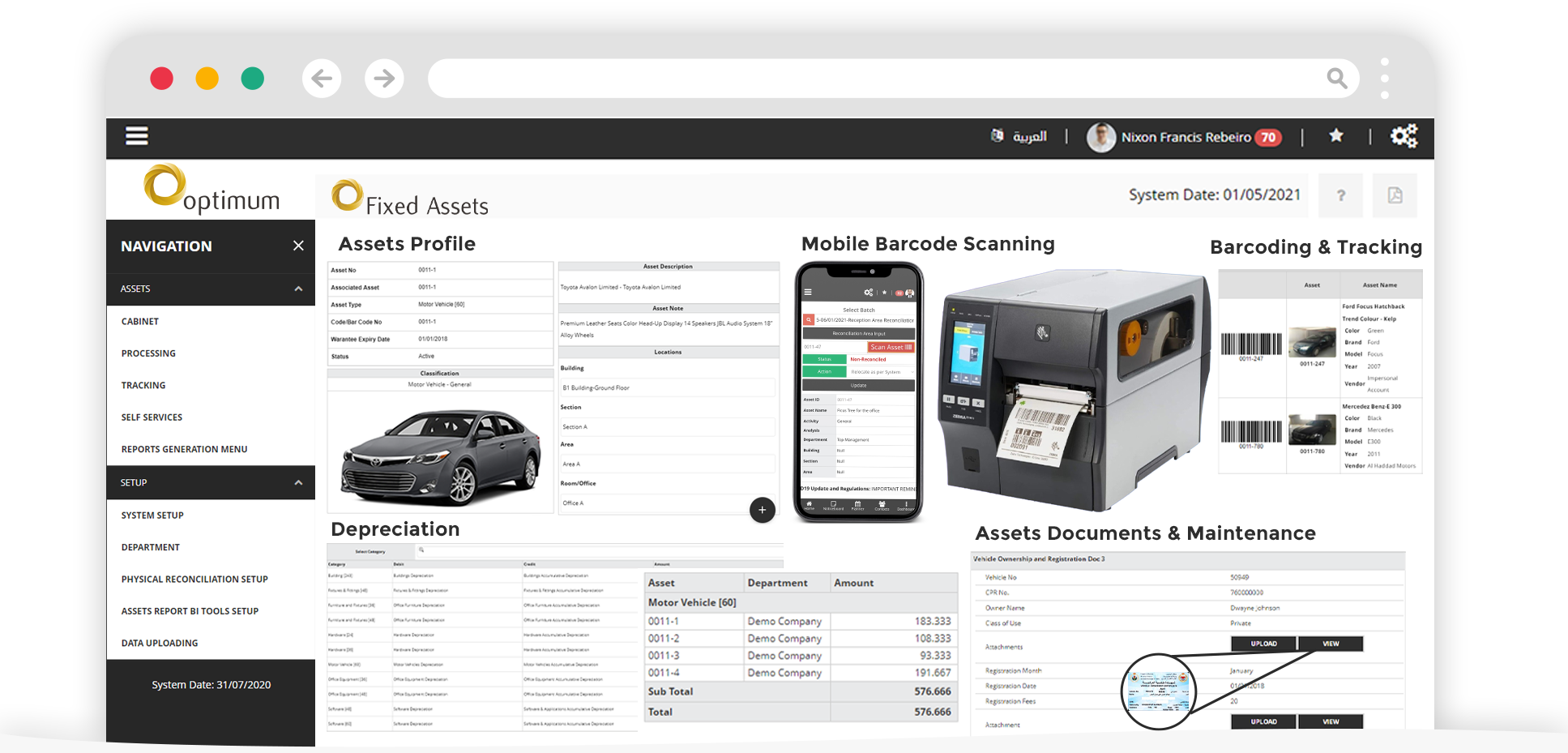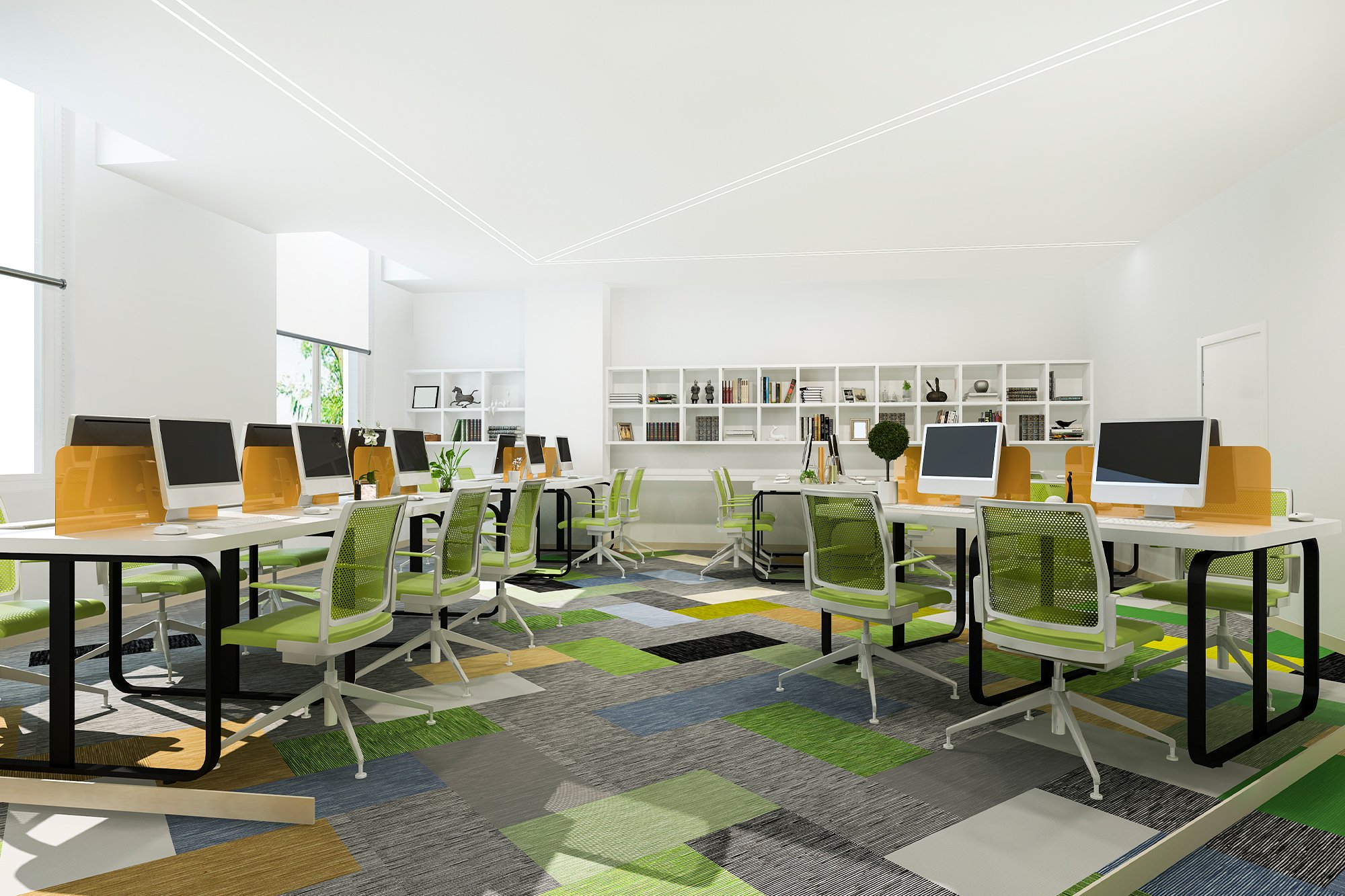 Optimum Fixed Assets module records all the fixed assets bought or capitalized, whether tangible or intangible. It manages assets related documents, asset's tracking, and assets maintenance. It keeps track of all assets movements.
The system maintains full financials related to Fixed Assets. Depreciation can be calculated using all universally accepted depreciation methods. It manages all types of asset disposal. It has a full-fledged reporting and inquiry system.
Available on three platforms: browser-based Intranet/Internet and cloud computing.
Online real-time posting, resulting in online real time financial reporting.
Bilingual capability: Arabic/English, you log into the system with the language of your choice.
Extensive MIS reporting (in both languages).
Document printout option upon any task per formed.
Multi-level access to the system and powerful central security control.

Functionalities
Assets Registration & Profiling
Fixed Assets Registration & Profiling module provides the facility to create and maintain full profile of any assets which includes Asset Description, Asset Financials, Asset Pictures, Asset Documents and Asset Maintenance records. The profile is electronically maintained and controlled through a preset workflow or selected workflow for approval.
Fixed Assets Registration & Profiling can also be used as summary of complete asset details in one screen providing users the birds-eye view to the users.
Fixed Assets Profile Functionalities:
Fixed Assets Summary
Fixed Assets Financial Summary
Fixed Assets Vendor Details
Fixed Assets Inquiry & Reports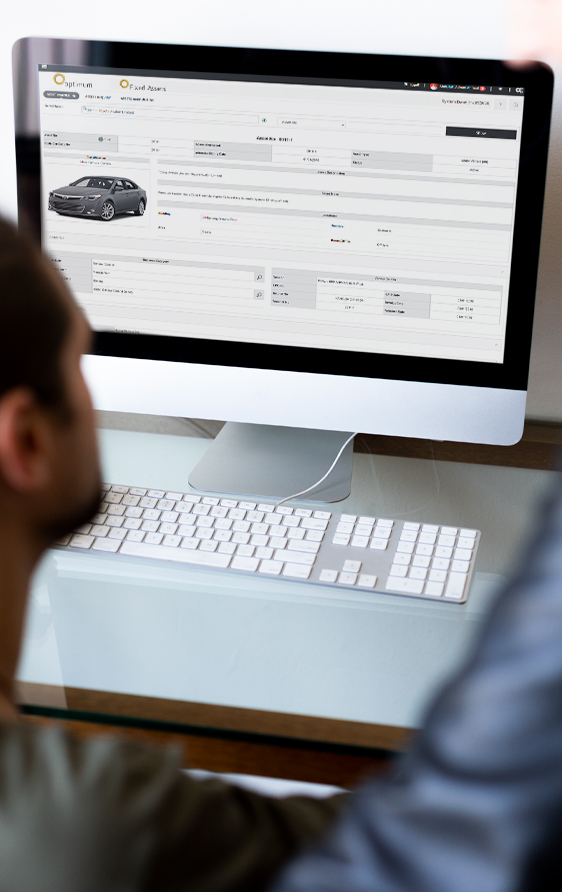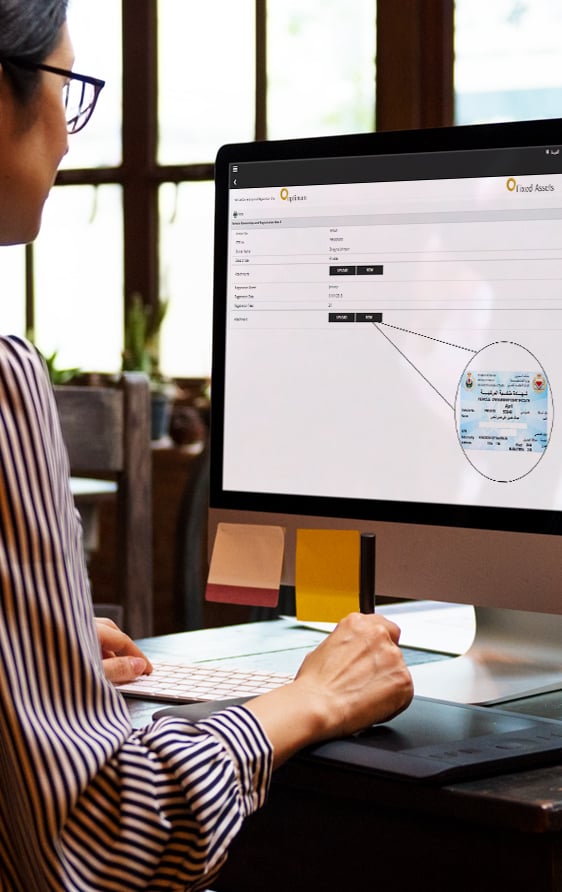 Assets Documents
Assets Documents module maintains all documents related to assets in an easy and flexible way providing users with facility to attach and view related documents at any time. The documents are electronically maintained and controlled through a preset workflow or selected workflow for approval.
Assets Documents can be used to maintain all kinds of documents with expiry dates, based on which system can send reminders to users to renew the documents.
Assets Documents Functionalities:
Documents Listing
Documents Upload
Document Expiry
Documents Inquiry & Reports
Assets Tracking
Assets Tracking is the state-of-the-art functionality which provides the complete bar-coding and tracking of assets. The Bar-codes can be created and printed from the system using any bar-code printer. Assets can be then tracked and reconciled using the hand-held bar-code scanners.
Assets Tracking also helps in generating and posting of variance entries based on the physical count of assets.
Assets Tracking Functionalities:
Fixed Assets Bar-coding
Fixed Assets Reconciliation
Fixed Assets Variance
Fixed Assets Inquiry & Reports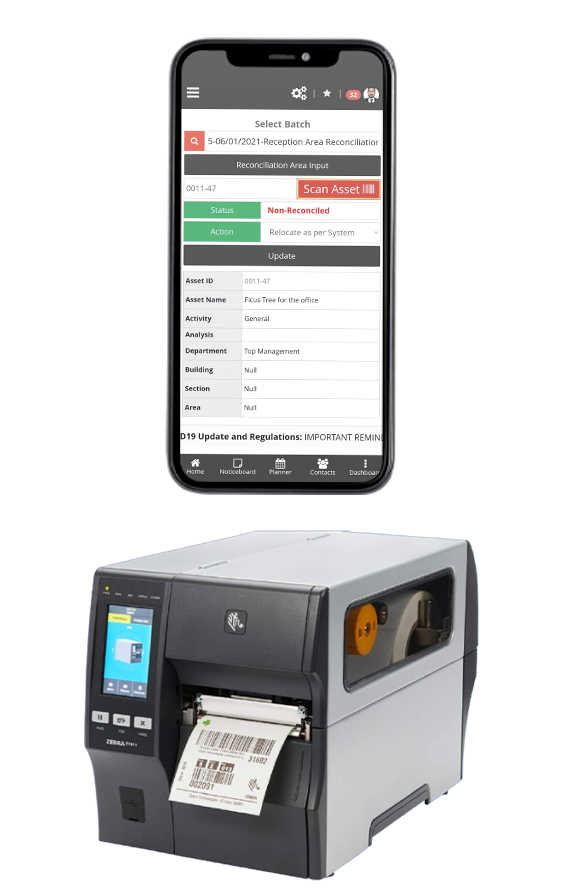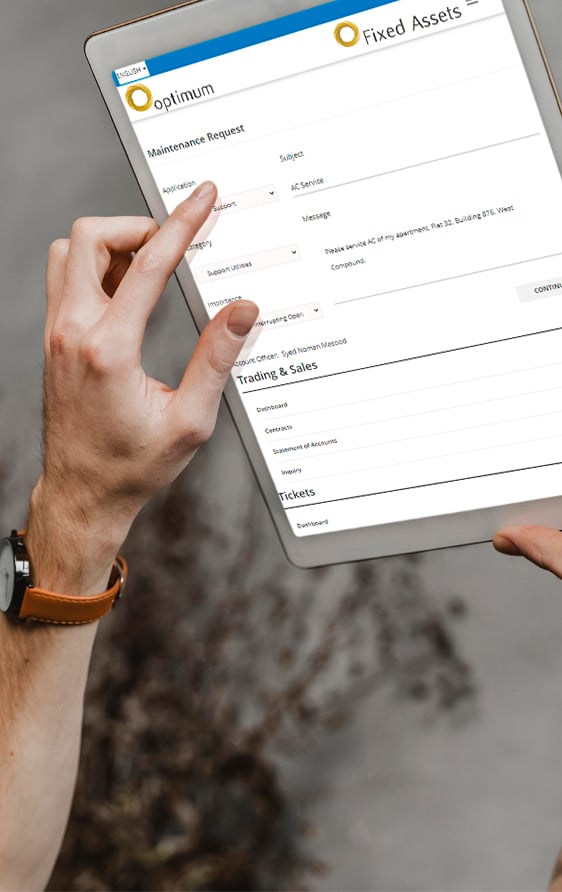 Assets Maintenance
Assets Maintenance module is used for recording and accounting for all maintenance carried on the assets throughout its life. The maintenance cost and the corresponding effect on asset's financials, depreciation and life are calculated as per international accounting standards.
Assets Maintenance module also has the functionality to maintain maintenance schedules and generate alerts and reminders for users when maintenance is due.
Assets Maintenance Functionalities:
Maintenance Records
Maintenance Financials
Maintenance Schedule
Inquiry & Reports
Assets Financials
Assets Financials module is the comprehensive solution for recording and processing all financial details against any asset including procurement and depreciation of assets. System uses fixed-line depreciation method to run depreciation every month based on asset life.
Assets Financials maintains the exact net book value of the asset and can also calculate gain or loss upon sale of asset. In addition, relevant accounting entries are automatically posted to the General Ledger.
Assets Financials Functionalities:
Fixed Assets Depreciation
Fixed Assets Disposal
Fixed Assets Other Financials
Fixed Assets Inquiry & Reports